Puppy Power, Class Exclusively For Your Puppy 8 to 16 Weeks
Plug into this exciting and innovative way to safely socialize your puppy and begin his training skills now. Avoid the pitfalls of puppyhood and learn how to kindly and effectively address many issues such as biting, destructive chewing, house soiling and "selective hearing" which may surface during your pup's first 3 months of life.
Not all Puppy Classes are created equal, at Half Moon Bay Canine Training, puppy classes are held in the climate controlled training studio. The cushioned-rubber floors are sanitized before each class with a vet approved antimicrobial disinfectant. As well, you'll be asked to step into a shallow tray of disinfectant to clean your shoes in order to provide a clean environment affording your pup the ability to begin training before he's completed his final puppy vaccinations and before fear of unknown people and unfamiliar dogs begins to take root.
All puppies have a "Critical Period of Socialization", a window of time between 8 and approximately 16 to 18 weeks whereby they're predisposed to accept new stimulus including people as well as other puppies with a healthy and open perspective. For that reason it's crucial to have your puppy in a carefully planned class conducted by a certified instructor experienced in proper socialization protocol, maximizing your dog's future wellbeing.
This class is fun, yet an important learning process which allows your puppy essential, well regulated and well monitored, intermittent off leash time to play with other puppies. Playful tunnels and balance disks are utilized to instill confidence. The class is infused with gentle handling exercises and the introduction of shaping the sit, down and recall cues, as well as teaching your dog to respond to his name and how to focus on you when asked. In addition your puppy will experience varying surfaces to navigate, all while under the supervision of an experienced trainer, culminating in an indelible positive experience for you and your dog.
Enroll in class today and reap the benefits of a well-adjusted, confident and happy puppy. Class is on a rolling enrollment and class meets Tuesday evening for a total of 6 classes.
Georgie Young, CPDT-KA,
CGC Evaluator, TDI Evaluator
757-621-6163
Certified Professional Dog Trainer – Knowledge Assessed
Therapy Dogs International Certified Evaluator
Professional Member of the Association of Pet Dog Trainers
Full Member Pet Professionals Guild
Canine Good Citizen Evaluator
Star Puppy Evaluator
Certified Pet First Aid Instructor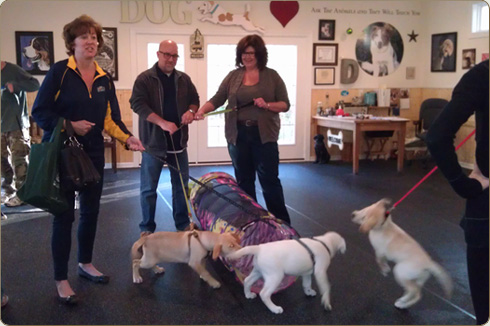 Puppy parents filtering in for the Yellow Lab class!
"The primary and most important time for puppy socialization is the first three months of life… For this reason, the AVSAB believes that it should be the standard of care for puppies to receive such socialization before they are fully vaccinated. While puppy's immune systems are still developing during these early months appropriate care makes the risk of infection relatively small compared to the chance of death from a behavior problem." - The American Veterinary Society of Animal Behavior
Linda Michaels:
"Dr. Lee Harris, DVM, San Diego, along with other progressive veterinarians, tell us, "Concern has been raised about exposing puppies to infectious diseases before they are completely immunized. Some common sense needs to be exerted about exposure risks (don't take the 10 week old puppy to a dog park!), but damage done by lack of early socialization is more dangerous to the dog in the long run than the risk of encountering a serious virus in well-chosen socialization exposures. The American Veterinary Medical Association realizes this, and their official recommendation is that that socialization concerns outweigh immunization issues, and puppies should be well socialized to people, dogs, cats, vehicles, and noises early in life. Canine mental health depends on it! "
Read about early socialization here: http://avsabonline.org/uploads/position_statements/puppy_socialization1-25-13.pdf
halfmoonbay10@aol.com
www.halfmoonbaycaninetraining.com