Welcome to Half Moon Bay!
"Training with integrity, understanding and sound scientific principles"
With all the entertainment venues available to us, the various distractions or addictions we rely on and the busy schedules we keep, why do we as humans seem to crave the companionship of a dog? Even people with initial good intentions who fail to uphold their end of the bargain, ultimately relinquishing their pet to the shelter, felt that a dog represented something undeniably positive at one point in their thought process.
This animal that we invite into our homes means so many things to us, but I believe that love is the best word that describes a dog and our need to be with them. Dogs are the one thing in life that we can always depend on to love us. And they desperately want to be with us regardless of how much money we make, how beautiful we are, or how much we invest in our relationship with them. We're always welcome into a dog's world; it's what they live for, to be visible and recognized as a part of our lives along with the opportunity to demonstrate how loyal, loving and smart they truly are.
By taking the time to train your dog with us, you are returning the favor of love to him. You're laying a foundation for which a mutual bond can begin to grow; a by product of the communication you are establishing by learning and teaching cues that will benefit you both. Watch your dog transform into the well mannered and attentive companion you can deeply appreciate.
"Make the Connection" with your dog by enrolling in one of our classes, you'll unveil the talents and intelligence your dog will thrive on displaying as you strengthen your relationship.
Half Moon Bay is located at 1233 Taft Road, Chesapeake, VA 23322, and serves the surrounding communities, including Chesapeake, Virginia Beach, Norfolk, Portsmouth, Suffolk, and North Eastern N.C.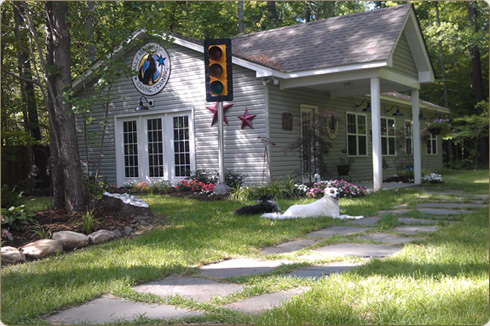 Newly constructed climate controlled
1,200 square foot indoor training studio